Sunday, August 26 - 5:00 pm

to

Friday, December 21 - 4:00 pm
Humanities Building, Room 474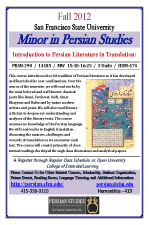 This course introduces the rich tradition of Persian literature as it has developed and flourished for over a millennium. Over the course of the semester, we will read works by the most beloved and well-known classical poets like Rumi, Ferdowsi, Sa'di, Omar Khayyam and Hafez and by major modern writers and poets. We will also read literary criticism to deepen our understanding and analyses of the literary texts. The course assumes no knowledge of the Persian language. We will read works in English translation, discussing the nuances, challenges, and rewards of translation as we encounter each text. The course will consist primarily of close textual readings developed through class discussions and analytical papers.
PRSN-290 / 14185 / MW 15:10-16:25 / 3 Units / HUM-474



Register through Regular Class Schedule, or, Open University College of Extended Learning



Please Contact Us for Other Related Courses, Scholarship, Student Organization, Future Events, Reading Room, Language Tutoring, and Additional Information.